Southwest Colorado Guest Ranch and Hunting Outfitters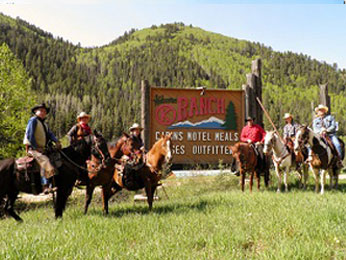 Escape with us to the beauty of the majestic San Juan Mountains! Find the quiet serenity and adventure that you've been longing for… CIRCLE K GUEST RANCH AND HUNTING OUTFITTERS.
A Colorado Guest Ranch and licensed Colorado Outfitter, Circle K offers family oriented western dude ranch vacations, high country horseback riding, guided fly fishing trips, and southwest Colorado elk and mule deer hunting without the high price tag or minimum stay requirements of resort lodging. We are a Non Structured Guest Ranch where YOU plan your own individual, family and group activities. Do as much or as little as you would like for a tailor made vacation that suits your style and budget!
Circle K Guest Ranch is nestled in the majestic San Juan Mountains between Dolores and Telluride in Southwest Colorado. Our Guest Ranch is ideally situated near the Bear Creek and Calico Trail Heads (among many others), the historic mining towns of Rico and Telluride, and the archaeological wonder known as Mesa Verde National Park.
Come play in the mountains with us.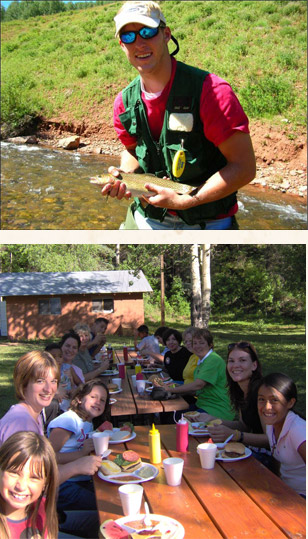 In these tough economic times, Circle K Guest Ranch is your best choice for a quality family vacation, outdoor recreation adventure or big game hunting trip in spectacular SW Colorado, all at an affordable price. We specialize in:
We look forward to hearing from you. The Cannon and Brannon Families
Circle K Ranch is an Oasis in Colorado – video by The Adventurous 500
Starting on November 15th, 2010, Ryan Park of the Adventurous 500 began traveling across the entire state of Colorado. As he explores Colorado, he captures the best of his adventures on camera and shares them with you. Watch Ryan as he visits us at Circle K Ranch for a horseback ride and taste of our mountain cable slide swing!     *****DUE TO NEW ZIP LINE REGULATIONS IN COLORADO, FOR THE TIME BEING, WE HAVE HAD TO TAKE DOWN OUR MOUNTAIN CABLE SLIDE SWING. WE WILL KEEP YOU POSTED ON WHAT IS COMING NEXT!
Call or e-mail TODAY!
1-800-477-6381 for reservations