Our summer season is in full swing!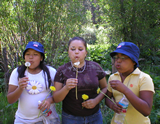 The past couple weeks have been a whirlwind of activity! We have been meeting lots of new and old friends who are coming to stay for a night or more…. and others who have come in just for a day to do some horseback riding. We have also had a great series of groups here to enjoy all we have to offer. Here are a few of the latest highlights:
Wounded Warriors came out with the Telluride Adaptive Sports program for an afternoon of riding, zip line swing, cookout and music. Great Time! Wonderful group of guys and gals.
Sheridan Opera House Foundation hosts the Wild West Fest each year for inner city boys and girls from around the country. They joined us for a day of horseback riding and games though out the day on Friday.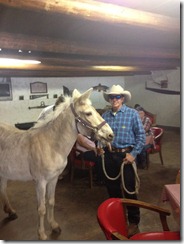 The Phoenix Inner City Kids are here this week! They have been having lots of fun horseback riding, fishing, hiking, doing crafts, playing ball games, and having lots of great meetings together. Your patronage helps us to host these kids and their leaders for one week each summer.
What a joy to serve each and everyone of these groups.
WELCOME!
We welcomed the newest member of our Circle K Family this week, Wrangler Michelle's mule, 'Molly'. Here is a pic of her in our lodge.