Adult and Youth Church Retreats
at Circle K Guest Ranch in Southwest Colorado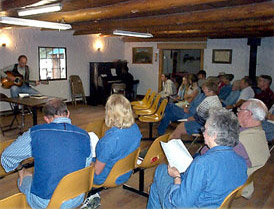 Adults and youth alike will enjoy a wholesome, Christ-centered environment at Circle K Ranch. We are Christian owned and operated with a desire to see all people, everywhere to come to a knowledge of God through Jesus Christ and to grow in Him. For over 35 years Circle K Ranch has been a place where Church groups have come to get away from all other distractions to focus on their relationship with the Lord.
We offer:
Custom designed camp service
A beautiful and wholesome environment
Bunkhouses for youth groups
Motel, lodge and cabins for adult retreats
Friendly staff ready to serve you
Our group rates are geared to accommodate any size group and activity to make planning and organizing your special occasion easier!
CHECK OUT OUR RATE PLANS
.
Call or e-mail TODAY!
1-800-477-6381
for reservations