Colorado Hunting Trips,
Guided Mule Deer and Trophy Elk Hunts in Southwest Colorado San Juan Mountains Near Dolores, Telluride & Rico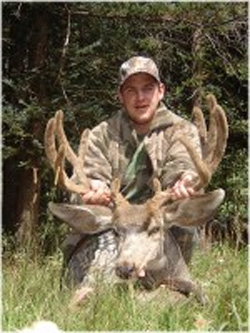 The true measure of a guide or outfitter is his percentage of repeat clients Circle K Ranch has been in the southwest Colorado guide and outfitting business since 1961, providing an affordable, top quality hunt for trophy Rocky Mountain Elk and Colorado Mule Deer to our clients. We are proud that each year up to 85% of our clients have hunted with us before, many for more than eight years. We encourage you to talk with them about our hunts (references available upon request). We list successful and non-successful hunters in our references to give you a more representative opinion of their experience when hunting with Circle K Ranch. More "bragging-size" mule deer and trophy elk are taken from San Juan Mountain hunts than from any other area of Colorado. The official record books and hunt publications continue to list Southwest Colorado's San Juan National Forest lands for producing record book animals. Circle K Ranch is located in the heart of this prime hunting area (unit 71) between Telluride and Dolores near Rico. All our Colorado big game hunts are conducted on National Forest Lands.
LICENSE INFO Colorado Hunting License Information

Muzzleloader, 1st. Rifle Elk, Rifle Cow Elk, and all Deer licenses are available by drawing only. All other licenses can be purchased at Circle K Ranch before each season starts. Archery licenses may be purchased after the season opens. Applications for licenses through the drawing process must be submitted by April 4 and may be obtained by writing to: COLORADO DIVISION OF WILDLIFE 6060 BROADWAY, DENVER, COLORADO 80216 (303) 297-1192 or call their Durango office at (970) 247-0855 or DOW's web: http://wildlife.state.co.us/

SEASONS 2018 Colorado Elk and Mule Deer Hunting Seasons

Archery: August 25 – September 23
Muzzleloader: September 8 – 16
1st Rifle (5 day) Elk Only, Draw: October 13 – 17
2nd Rifle (9 day) Combined deer and elk: October 20 – 28
3rd Rifle (9 day): Nov.3 – 11.
Non-Resident License Fees:
Deer $389.00
Bull Elk $644.00
Cow Elk $484.00
Bear $354.00 * All Youth $100.75
Habitat Stamp $10.00 (required with first license)
Call or e-mail TODAY!
970-562-3808
for reservations