Working at Southwest Colorado's Circle K Guest & Dude Ranch
Job Location:
Mountains of Southwest Colorado between Dolores and Telluride.
Ranch Goals:
Circle K Ranch is a Christian owned and operated guest ranch that serves guests from all walks of life such as Church youth groups, family reunions, girl scouts, boy scouts, public school groups, vacationing families, etc. We place a high value on quality of character, including good disposition, high personal standards and being a positive role model for our guests. Our goal is to provide a very warm, friendly atmosphere and to do our best at helping our guests make memories to last a lifetime. . Working at a guest ranch requires individuals with a team mentality. Every one pitching in wherever there is a need makes each person's load a little lighter. We are looking for individuals with this kind of mind set. For most positions, our summer season begins the first week of June and goes through mid August. Our cooks, assistant cooks and wranglers have the possibility of fall employment staying thru to the end of October or mid November .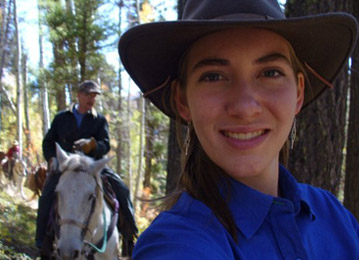 Job opportunities include:
Wrangler, Maintenance, Housekeeping, Cook, Assistant Cook, Front Desk/Office Assistant and those that will be available wherever needed (We call this group, our Circle K Generals!). Wrangler Training and Internship now available! See details below! While working at a guest ranch can be a lot of hard work, it can also be a great deal of fun. Employees have the opportunity to meet people from across the country and around the world. During time off, employees are able to join in many of the ranch activities including riding, fishing, and hiking or they can strike out on their own to go camping, river rafting and explore the surrounding area. If this combination of hard work, commitment and fun in the surroundings of the beautiful San Juan Mountains of Southwestern Colorado interests you, we invite to apply online using our secure online application form.
JOB DESCRIPTIONS
click on job title to expand or minimize description
Click Here to Apply Online – work for Circle K Guest Ranch!