Meals at Circle K Guest Ranch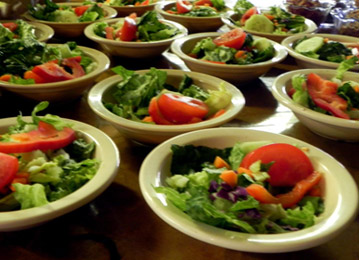 Hearty, home-style cooking is what meals at Circle K Guest Ranch are all about. Good food and plenty of it!! All meals are served buffet style. Special diet restrictions are not a problem if plenty of notice is given. We will do whatever we can to accommodate your requests or special needs with advanced notice (2 weeks is best). Children 4 and under eat free!
MEAL PLAN RATES:
This plan includes all meals for the length of your stay (up to 3 meals with each nights stay). Add this plan to any lodging reservation when booking your room.
Ages
Price per person / per nights stay
Adults (Ages 12+)

$33.50 (Gluten Free Diet: + 4.00/day)

Children (Ages 5 – 11)

$20.50  (Gluten Free Diet: + 4.00/day)

Children 4 and under eat Free.
INDIVIDUAL MEAL RATES:
Purchase meals on an ala carte basis. Reservations required at least a meal in advance.
Ages
Breakfast
Lunch
Dinner
Adult (age 12+)

$7.99

$9.99

$15.99

Child (ages 5-11)

$4.50

$6.99

$8.99

Children 4 and under eat Free. Gluten Free Diet: +2.00 per meal
What to Expect:
Home cookin' at it's best! See some examples of meals below.
Thank you so much for hosting us this past week!! The food was great and your smiles throughout the day were wonderful!!" -Denise G., Mesa, AZ.
| Meal | Examples |
| --- | --- |
| Breakfasts Always served with fresh fruit, cereal, coffee, tea, juice and milk. | Scrambled eggs with biscuits and gravy, pancakes and bacon, french toast and sausage, fried eggs, hash browns or bacon |
| Lunch Lunches may be packed to go for picnics and horseback adventures or enjoyed at the ranch. Always served with fresh fruit or cookies, lemonade and ice tea. | Philly steak sandwiches, hoagies, pizzas, or homemade vegetable beef stew and cornbread, and much more! |
| Dinner Always made special with our famous homemade ranch rolls, fresh green salads, drinks, scrumptious desserts and a smile! | Roast beef dinner, grilled or fried chicken dinners, Italian dinners or Mexican dinners, & more! |
SEE YOU AT MEAL TIME!
Call or e-mail TODAY!
1-800-477-6381
for reservations