Ranch Facilities
The Lodge: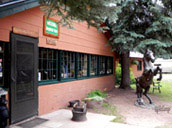 Named the 'Rio Lado' (River Side) Lodge back in the late 1940's when it was built. The main lodge area still has the original design with a few modifications. Our main lodge room has a fireplace and sitting area where families can gather, play games, visit or watch tv. Our 'program room' or meeting room is ideal for groups of all kinds. It sits up to 80 with a corner stage, and upright piano. Our lodge is also home to our kitchen and dining room, which seats up to 70 with additional seating outside. Six lodge sleeping rooms with 2 bathrooms make up the remainder of the lodge area.
Outdoor Meeting Tent: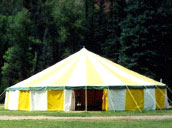 Available for groups of 80+ needing a meeting place. The tent can seat up to 200 and has a stage up front and electrical outlets for sound equipment, etc. If you would like use of the outdoor meeting area, please arrange in advance.
Ropes Course: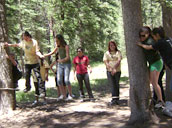 Our grounds initiative, low ropes course is designed for team participation. Teams must develop a strategy and learn to trust and rely on each other to successfully complete the course. This helps develop camaraderie and a spirit of trust among participants. Develop those team working skills! We have staff who can facilitate or show you the 'ropes' and you can use it on your own. There is also a playground for the little ones.
Camp Fire Area: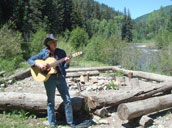 Groups have access to our camp fire ring along the river. Plenty of seating on our log 'benches' with the sound of the river flowing by provides the perfect setting for a fun gathering around a crackling camp fire. Perfect for sing a longs, story telling, S'Mores and just plain good times.
Basketball and Volleyball: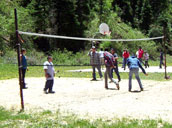 You've heard of beach volleyball….now you can say you played mountain volleyball. A great way for families and groups to enjoy some friendly competition.
GAME ROOM: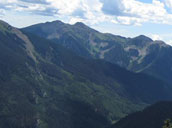 Equipped with 3 pool tables, two ping-pong tables and 1 air hockey table. A great alternative on a rainy day.
COIN-OP LAUNDROMAT: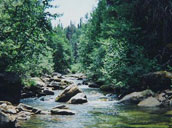 Change and laundry detergent are available at our front desk.